---

$2299
Reg.$2899


J1812 Freestanding:
For decades this pellet stove model has been in production and has proven to be very popular and reliable. Refinement comes with time, experience and years of persistence. This is a very beautiful looking pellet stove and comes with all the features mentioned above. For more info go to the installation section under the help and support tab. Note: Black Door $2299 - gold door $2799.
---

$2099
Reg.$2699


J1812I Insert:

This is the same model as the J1812 freestanding pellet stove. It can be installed in your regular fireplace. The optional surround ( see below ) can be used to cover the gap between fireplace opening and the pellet stove insert. You also have the option to make your own surround to fit better with your decor. For more info go to the installation section under the help and support tab. Note: Black Door $2099 - gold door $2499.


---

$229
Reg.$249


LC100 Loading Chute: To be used with the pellet stove insert model J1812I and S2505I as an optional item. The LC100 loading chute will make it easier to load the pellets into the pellet stove hopper as part of the pellet stove is inserted in the fireplace opening.


---

$249
Reg.$289


HE2 Hopper extension: This hopper extension will increase your pellet stove's capacity to 100lb. For Model J1812 and S2505


---

$89
Reg.$99


CV100 Check Valve: The optional check valve goes onto the fresh air intake tube at the back of the pellet stove and will prevent reversal of air flow. In case of a power cut, it will stop lingering smoke entering the habitation.

---

$79
Reg.$99


AK100 Fresh Air Intake Kit: This kit will introduce fresh, oxygen rich air into the burn pot from the outside of your home. It also takes the place of a Check valve.

---

$129
Reg.$149


WTK-P Remote Thermostat: Believe it or not pellet stoves have come a long way and can now be controlled remotely from a wall thermostat in a fully automatic mode. Turn on your pellet stove when you are not home and / or just cycle the pellet stove according to the set temperature.

---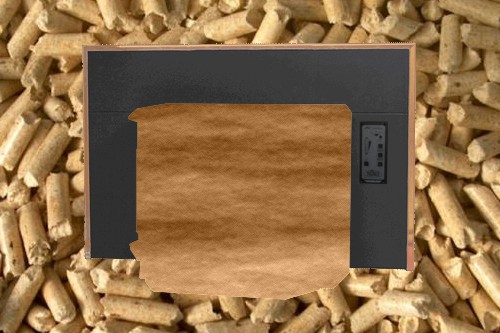 $189
Reg.$209


SURSTD-P Surround : This wood pellet stove surround is used for pellet stove insert models J1812 and S2505 to bridge the gap between the pellet stove body and the fireplace opening.


---
Specifications:



| | Stove | Insert |
| --- | --- | --- |
| WIDTH | 25" / 625 mm | 25" / 625 mm |
| DEPTH | 25" / 625 mm | 25" / 625 mm |
| HEIGHT | 31" / 775 mm | 23" / 585 mm |
| WEIGHT | 225 lb. / 103 kg | 200 lb. / 90 kg |
| FUEL CAPACITY | 50 lb. / 22 kg | 40 lb. / 18 kg |
| MOBILE HOME | APPROVED | APPROVED |
| BURN TIME | 11 to 50 hours | 9 to 40 hours |
| INPUT/HR* | 40,000 BTU | 40,000 BTU |
| FLUE DIAMETER | 3" / 75 mm | 3" / 75 mm |
*INPUT MAY VARY WITH THE QUALITY OF FUEL

Fireplace Opening Requirements:


WIDTH
MIN 23"
MAX 40"
HEIGHT
MIN 19.5"
MAX 31"
DEPTH
MIN 16"


HEARTH REQUIREMENT
MIN 11"


CLEARANCE TO COMBUSTIBLES




TO BACKWALL
1" / 25 mm


TO CORNERS
1" / 25 mm


TO SIDEWALL (BAYWIN)
12" / 300 mm


TO SIDEWALL (XL)
5" / 125 mm


TO MANTLE
13" / 330 mm


ALCOVE MAX. DEPTH
30" / 762 mm


ALCOVE MIN. WIDTH
48" / 1220 mm


ALCOVE MIN. HEIGHT
48" / 1220 mm


FLOOR PROTECTOR
6" / 150 mm


ELECTRICAL REQUIREMENT
115 Volt / 3 amp


WITH SELF IGNITER
115 Volt / 6 amp


EPA STATUS
EXEMPT